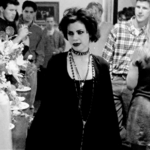 This mans neighborhood gets a low-cost grocery(needed) store about 5 blocks from his house in the Mission District of San Francisco. He goes there to pick up food to prepare for Mothers Day. The grocery store is Outlet Grocer located at 1245 South Van Ness.

He complete his shopping and pause before he hauls my soon-to-be M'Day feast in his shopping cart through the parking lot and stops to have a smoke before he grabs his purchased things and a security guard asks if he am waiting for an Uber...he says "no", just walking home and thank you very much.

Guard then says he is loitering and proceeds to say that "Your people are not wanted here at this store", says that his objections toward the guard are nothing more than a "Black Lives Matter" and people like him creating problems.